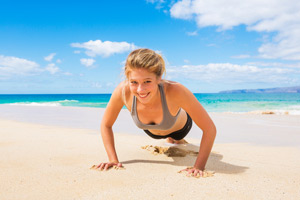 The feeling of needing to detox after taking a trip always puts a damper on your experience. Oftentimes while travelling, the desire to try new foods and over-indulge is great, and while it is natural to do so, it may wreak havoc on your body. Rather than shocking your body while travelling and then having to come home to undo all of the damage, there are a few easy steps you can take to make your travels and return home a bit less stressful on your body.
Don't Stop Exercising
While you may not be able to do the normal exercise routine that you do at home, find something new and different that can be done wherever you are travelling. Taking the time to find a new workout or even a routine that can be done in a hotel room or on the beach can be beneficial. Bring along clothes to wear for exercise, so you will be more likely to follow through with your plan to stay active. It can be as simple as exploring a new place on a hike or taking a long walk on the beach, but stopping your body from moving and your blood flowing while on vacation can hurt you in the long run.
Bring Your Own Snacks
As soon as you get to your travel destination, find a farmer's market or grocery store to stock up on healthy snacks that your body is used to eating. While you are likely to try new foods throughout the trip, be sure to not let yourself get so hungry that you end up binging on indulgences. Eating healthy snacks throughout the day will keep you satisfied so you can sample new foods, but don't necessarily need to fill up on them. Food is a great way to learn about a new place, so be sure to try their local cuisine, while also keeping your health in mind.
Don't Forget Your Reusable Water Bottle
Staying hydrated from departure to arrival is very important in travelling. Fill up your reusable water bottle constantly from before stepping on your first flight until stepping off your last flight home. Make sure it is full whenever you leave your hotel room, which will also save money by avoiding buying expensive bottles of water.
While we tend to indulge in other beverages while travelling, such as wine and alcohol, staying hydrated despite this is key to not feeling sick on your trip. Negate the alcohol and rich foods by drinking plenty of water throughout the day.
Commit to One Produce-Heavy Meal Each Day
It is great to experience new indulgent foods while travelling, but doing this three times a day can take a serious toll on the body. Help balance this by sticking to at least one healthy meal a day. This may be a light breakfast of fruit and yogurt, or a big salad for lunch with fresh, local vegetables.
Many vacation destinations have great local markets where fresh meat and produce are available to purchase. If you have a kitchen available where you are staying, take advantage of these markets and prepare your own fresh meals to avoid over spending and over eating in restaurants.
Travelling is tough on the body, not just with diet, but also with the change in schedule, routine, and sleep. Use these tips to keep your body as regular as possible while also enjoying your travels and trying new things.
For more articles go to http://yourfitstop.lifestyleezine.com