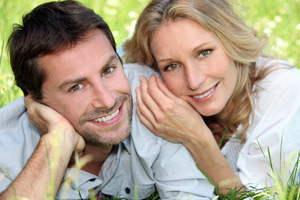 Relationships are hard. Trying to understand why or how your partner does things in comparison with how you would handle the same task is sometimes cause for disagreement and tension. While all relationships have their ups and downs, how can you tell if you have a healthy balance? Here are five signs that you are in a healthy relationship.
1.You don't rush it.
Couples who are in healthy relationships enjoy where their relationship is standing at any given moment. They do not look to the future milestones and look forward to only gaining happiness then. Happy and healthy couples are able to live in the moment and not rush to get married or have a baby, rather they take the time to enjoy each occasion in their life as a couple and take the journey together slowly.
2.You inspire each other.
While supporting each other and inspiring each other are similar, inspiring your partner takes support to another level. Having mutual motivation to better yourself and each other is a healthy way to take on new challenges without being held back by resistance from a partner. Those who hold their partners back are not contributing to the health of a relationship because their partner may be able to benefit from their endeavors, which will ultimately spill over to home life. You want your partner to want to be a better person for you.
3.You accept each other the way you are.
Don't forget that filling in the gaps of each other's weaknesses with your strengths creates a whole. Do not be unaccepting of the fact that you may be great at one thing, but your partner is terrible at it. This only works to create a balance in the relationship. People who are in healthy relationships can accept the flaws that their partner brings to the table and celebrates their strengths.
4.You can let go of the past.
People who are in healthy relationships see their failures and their mistakes as lessons to create a stronger and longer lasting bond. Past discrepancies do not define the present relationship, as healthy partners are able to work together to truly move on. Using hurtful or painful experiences to move on and support each other creates a stronger bond that leads to a relationship that can withstand the test of time.
5.You support each other through hard times.
Everyone experiences difficult times throughout their life, whether it be the loss of a loved one, the loss of a job, or simply a bout of depression. A sure sign of a healthy relationship can trace back to how a partner handles these rough patches. Offering support, sympathy, and empathy are important ways of showing you care, but also letting the person know through actions, not just words, that you will be there for them throughout the process.
The ultimate sign of strong relationship that brings all of these factors together is its victory over the test of time. People who are in healthy relationships make an effort to communicate to their partner that they are appreciated and loved, and on top of all things they are committed to each other for the long term.
For more articles go to http://yourfitstop.lifestyleezine.com